'The Loft Tapes' is the debut album from folk collective Mishra, and it's stunning work. The blend of traditional Indian music with Celtic and folk makes for an inter-continental exploration of sound and vision.
At times intricate and complex, at other times simple and honest, this is not quite like anything you've ever hear before. I can say with complete intregrity that Mishra is unque.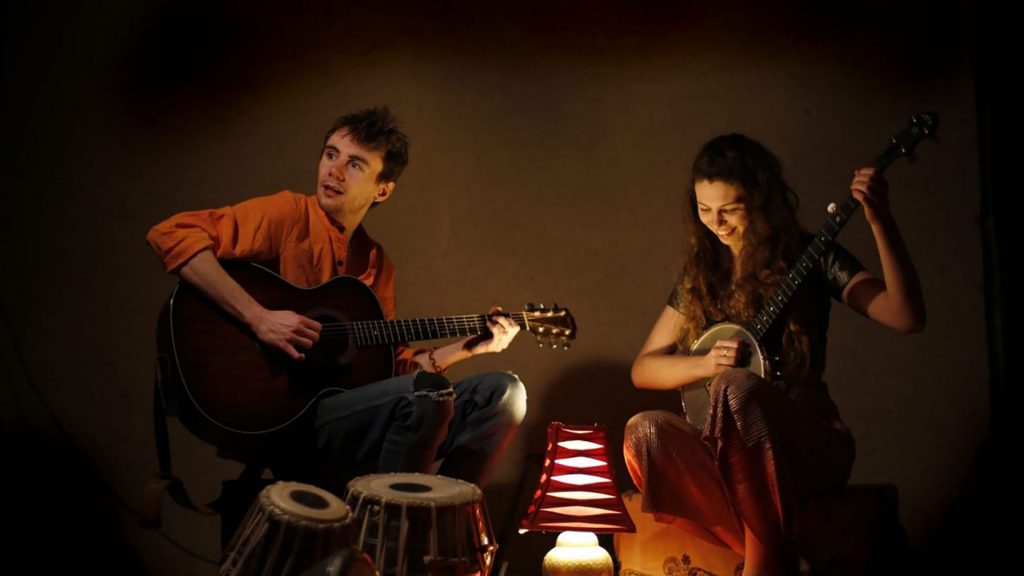 Based in Sheffield, the two main protagonists are Ford Collier and Kate Griffin, but Mishra describes itself as a 'global folk collective'. There's something heightened and elevating about the juxta-positioning of these traditional Indian vibes with Celtic, folk rhythms and melodies – almost Shamanic, capable of taking the listener in to a trance-like or transcedental state, when focused. Central to this Indian rhapsody is Kate and Ford's teacher when they studied music at Sheffield University.
John Ball taught the pair and introduced them to Indian music, through his twenty years' experience in Indian classical music. From the onset, the Indian influence is clear. It inspires and flavours the entire album, one way or another. Even their name – Mishra – is possibly a nod to the Mishra Brahmins of North West India and Nepal, the holy priests of Hinduism.
Still a young band, formed in 2017 fresh from university, their courageous approach in an often difficult market to break through – their commitment to hold fast to this unique sound will surely stand them in good stead. They are all exceptionally talented musicians and multi-instrumentalists.
Joined by their teacher John Ball, and jazz musician Joss Mann-Hazell on seven quartet tracks and four trio tracks, all of which were recorded live in the secluded loft of a farmhouse in Gloucestershire, straight on to analogue tape.
They took this route primarily because they wanted to capture the spirit of their live performances. It definitely does that – full of spirit, at times rousing and at others reflective and gentle, using instruments from across the globe – the Indian tabla, the African calabash, the Irish tin whistle to double bass and bouzouki.
Ford and Kate partially funded the venture with their prize money from the inaugural Christian Raphael prize at the 2018 Cambridge Folk Festival. Both Kate and Ford were individually short listed for the 2018 BBC Radio 2 Young Folk Awards, and their abundant talent and versatility is definitely apparent across the twelve tracks.
From the opening track – a classical Indian Raag Job, Mishra-style to the closing track, Morphology, where Ford recites in Tabla Bol (the spoken form of the table drums), that 'The Loft Tapes' is certainly a special and unique offering to contemporary folk music. Most songs are written by Collier and Griffin with the exception of the cover of Gillian Welch's 'Scarlet Town' and 'Angeline the Baker', a traditional folk song given the Collier/Griffin treatment, which is utterly delightful.
There are more things between heaven and earth than we can dream of, but 'The Loft Tapes' manages to combine a deep, earthy artfulness with a heavenly, transcendent melodic vibrancy, leaving the listener feeling all the better for having had its company. Explore Mishra's at www.mishramusic.co.uk